3B hair curls are a trend among women, especially young people. Hairstyles help you look more youthful and more distinctive. But to maintain its quality, you need to understand its nature and the necessary care.
Ivirgo Hair Factory will summarize useful information about 3B hair to help you have a more specific look. Let's read on to discover!
What Is 3B Hair?
3B hair comes with tightly wrapped curls with a certain elasticity. Everyone's naturally curly hair is completely different in texture and weight. Hence, pairing them into bundles results in a synthetic curly pattern.
Specifically, 3B hair can include many curls, such as 2C, 3A, and 3C. Therefore, 3B hair has a moderate curl, from loose to spiral. Although some bundles intertwine different types of coils, it can be challenging to distinguish each class if you just glance at them.
Differentiating Between Type 3 Curl Hairs
Curly hair includes many types. These types differ mainly in curl and hair quality.
The 3B hair look is bouncy arc-shaped curls and looks quite feminine. In addition, in 3B hair, there is a point that helps you quickly identify that it is shrinking from a wet to a dry state and comb it up.
The 3A curls curl in an S shape, which is the softest and loosest among the 3 hair types. Finally, in the 3C, the curl tends to be stiff and tight.
In other words, 3B is medium hair. So its curls include transparent spring spirals and liquid spirals, which can be with 3C and 3A. Also, 3B's texture and curls vary depending on the styling or tools used.
How To Care For 3B Hair?
3B hair is prone to hardening when exposed to water. Therefore, for your hair to always keep the curls and a certain bounce, you should maintain it regularly with some practical, safe methods.
Here are the many recommended care tips and perfect results for your 3B hair.
Hair care
Since hair tends to dry quickly, we recommend washing it only once or twice a week. While we understand that not washing your hair for a long time can make you uncomfortable, using too much shampoo can make your hair appear dry.
Try to maintain a weekly shampoo, which helps to provide the hair with the necessary moisture. Of course, overuse can cause unnecessary harm to your hair extensions.
Hair porosity
Nothing can be better when you understand your hair is porous. If you have low porous hair, you will need conditioner in small and moderate amounts.
For those with better porosity, hair care products are more beneficial for you.
There are many quality hair care products available today. But only some types are suitable for your hair quality. Aloe vera is better for people with low porous hair. And coconut oil goes well with highly absorbent curls.
It is the two most trusted and effective options by many people. Also, you can choose from several other products. Yet, make sure they match your hair quality.
Support products
While the product helps to add volume to your hair, it weighs significantly more on your head. So, you should only use the products you need in small quantities.
Heat styling
3B hair dries quickly, so heat is not the best choice. In other words, you should limit heat tools on your hair. If you need to dry your hair, apply a heat protectant before drying on a low frequency.
How to Style Your Hair Type?
Curly hair is difficult to create and change the style, but this doesn't seem right. The main reason comes from bathing habits.
When you don't wash your hair weekly, you need help from hair care products.
Next, use the curling tool to give the hair some volume. In addition, you can also refer to squish to condish, which curls hair thanks to conditioner.
The implementation is quite simple for you to follow. Accordingly, while the hair is still wet, you will take a little conditioner, pour it into your hands, and apply it evenly from root to tip.
Then, wash them off with plain water. Also, no matter what style you change, limit the heat tool on your hair as much as possible. It makes the hair coarse and curly. Here are some outstanding styles you can change with 3B hair.
Cut pixie
Cut 3B hair short to her neck. Short hairstyles help you look younger and more active. In addition, with this style, you are also easier to care for and maintain.
Rounded Cuts
Give your hair movement with a circular cut. This design pattern is quite difficult to make at home. Therefore, you should look to experts with experience in this field to seek their help.
Air-Dried Curls
One simple style that makes a big difference is the air-dried curls. You must wash them the usual way and wait for them to dry.
After a few hours, depending on the length and thickness, the hair will dry at different times. At that time, the hair will swell, and the curls will come out slightly. If you're after a dynamic, teeny, and out-of-the-ordinary style, then it's the most suitable stylist.
Create curly bangs
Create a canopy over your forehead to make your face look more compact. Since it is a complex technique, a professional perm at a hair salon will be better than doing it yourself at home.
This style will be especially suitable for modern girls, who always want to show their personality in front of a crowd.
Fluffy Updo
If you often tie your hair up to highlight your face, 3B hair can still be available in certain styles. It would help if you got a hair band and some clips to hold the hair in place.
Features of 3B Hair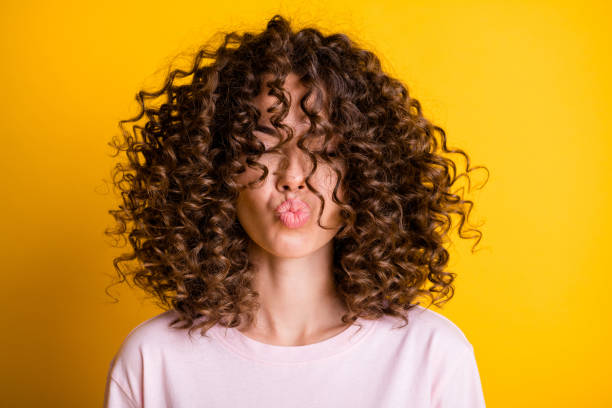 3B hair possesses outstanding qualities that are unique to it, making many people love it. Its exceptional features include:
Strong curly
Hair definition and thickness are maintained at a moderate level. It lies between loose curls and tight curls. So, it will keep curls all day and won't sag in calm, sunny weather. If the weather is bad, your hair will lose volume faster than usual.
Fiber texture
The texture of the hair is medium, so the hair is easy to hold and convenient for care and styling. Limit the use of nutrients that can cause hair loss.
The Snags of 3B Hair
3B hair can create many different and catchy designs. But there are some difficulties in it that you need to consider:
Coarse: 3B hair is somewhat rougher than 3A. As a result, the cuticle does not reflect enough light, making the hair dull.
Dryness: Because 3B hair has tight coils, it is difficult for sebum to move down to the hairline. Therefore, the hair does not have enough moisture, leading to dryness. However, thanks to some essential hair care products, you can still overcome it.
Poofiness: Although voluminous hair is something that many people love, it is also a weakness and makes it difficult for you to style or care for.
FAQs
What does 3B mean in curly hair?
3B is a collection of curls. It combines 3A and 3C, so its circles include loose curls and spring cork curls.
Is 3B curly or wavy?
Type 3 hair is all curly. But each specific type has a different curl and shape with 3A bold S-shaped curly, noticeably looser, and softer.
Meanwhile, 3B curls in the arc will come with an animated character. And 3C tends to be the most frizzy, tight, and twisted off the mentioned ones.
How often should 3B hair be washed?
Washing your hair several times a week makes it dry and hard, losing its oiliness and natural oils. 1 to 2 times a week is reasonable to keep the hair moisture and stiffness fit.
Does 3B hair need oil?
The answer is yes. It is one of the ways to help provide moisture to the hair. Natural products like argan oil and coconut oil can hydrate your hair and improve its natural dryness.
Can 3B hair wear braids?
You can completely braid with 3B hair. One suggestion for you is the Jumbo braid. It is easy to do and less time-consuming than some other hair types.
Don't overuse this technique too often to its detriment. After braiding your hair, you can moisturize it for a few hours to get the highest standard of curls.
Conclusion
3B hair has moderate curls, is bouncy, and is beautiful when you own such hair.
However, it is challenging to care for due to some natural properties of 3B. Therefore, you should be persistent in maintaining your hair to keep it beautiful.
You have understood 3B hair and the necessary care with the above article. Please share these articles with your loved ones if you find them useful.
I am Thomas Taw, the CEO of CITIZENSNIPS. I have experience in hair product development and chemical research, as well as sustainable resource engineering. In 2009, I co-created Sunsilk, one of the world's leading haircare brands. More recently, I was the CEO of SMOKINGPANDA LTD. I am a professional with a strong track record in delivering tangible results.